LocalShots.com 's profile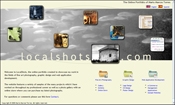 Currently living in Arganda, Spain.
About LocalShots.com
The Online Portfolio of Mario Marcos - Welcome to LocalShots.com, the online portfolio created to showcase my work in the fields of fine art photography, graphic design and web application development. The website features a variety of samples of the many projects which I have worked on throughout my professional career as well as a photo gallery with an online store where you can purchase my latest photographs.
Porfolio online de Mario Marcos - Bienvenido a LocalShots, el porfolio online creado para exhibir mi trabajo en las áreas de fotografía artística, diseño gráfico y desarrollo de aplicaciones Web. Esta Web contiene una variedad de muestras de los proyectos en los que he trabajado a lo largo de mi carrera profesional, como también una galería fotográfica con tienda virtual donde podrás adquirir mis últimas fotografías.
6 things you should know about LocalShots.com:
Arganda del Rey, Madrid, Spain, España
Fine Art Photography - Fotografía artística - photo gallery - galería fotográfica
Graphic Design - Diseño gráfico
Web Design Application Development - Diseño Web Desarrollo de aplicaciones de gestión
e-Commerce - Comercio electrónico - online store - tienda virtual
Java Java2EE, JSP, Hibernate, Spring, Seam, XML, Ajax, Javascript, ASP, DHTML, CSS
LocalShots.com's websites: