alvaro vallejo's profile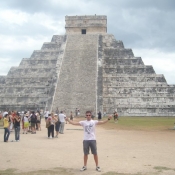 36 years. Male and taken.
From Estepona, Spain.
Currently living in Estepona, Spain.
About alvaro vallejo
I´m from Estepona, Málaga - Andalucía - España, I´m 23 years old. I love to travel !!
I would like to visit in a few time, London, Florida state, Greek Islands, Norwegian fjords, Brasil, Argentina....
2 things you should know about alvaro:
alvaro's websites: