Patrick Christensen's profile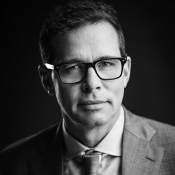 53 years. Male.
From Sturtevant, United States.
About Patrick Christensen
Patrick Christensen is the president of Horizon Retail Construction, one of the nation's leading general contracting firms specializing in tenant improvement, headquartered in Sturtevant, Wisconsin. In his time at Horizon, Patrick has held the role of estimator, project manager, senior project manager and vice president. He took over as president and CEO in 2002 and has led Horizon to substantial and continuous growth since. Under Patrick's leadership, Horizon has grown by 200 employees with a 650% increase in revenue.
Prior to his role at Horizon, Patrick attended Minnesota State University, Mankato. He graduated in 1991 with two Bachelor of Science degrees in Business Administration, one with a concentration in Marketing and another in Construction Management. Christensen first began in the construction industry as an estimator for a multi-family carpentry contractor. Shortly after that he went to be a project manager for a company that built ambulatory clinics. Here he bid and built his own work and developed a passion for understanding the importance of quality work in all construction phases from start to finish.
To this day, Patrick uses his 30 years of experience to facilitate the continuous building of his team of skilled and seasoned industry professionals. A team that continues to embrace his corporate culture of uncompromised customer service and quality craftsmanship. Through his commitment to excellence and dedication to professionalism, Patrick Christensen and Horizon Retail Construction have continued to exceed industry standards by forming strong professional relationships based on integrity, reliability and consistency.
In addition to his lead role at Horizon, Patrick has 30 years of experience investing in various asset classes such as office, retail, and hospitality, including hotels and multi-family properties. Collectively, Christensen holds a portfolio of 28 properties amounting to over 1.2 million square feet and 1,79
1 thing you should know about Patrick:
President of Horizon Retail Construction, a tenant improvement general contractor. @MNSUMankato grad. Interests include: #AdventureTravel #Philanthropy #Farminghttp://patrickchristensen.org/